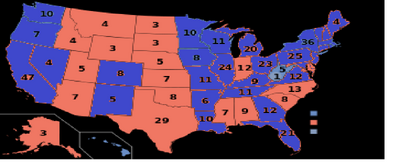 The United States Presidential Election of 1988 was the 51st quadrennial presidential election. It was held on Tuesday, November 8,1988. Incumbent Vice President George H.W. Bush easily won the republican nomination against Dan Quayle and Bob Dole, and chose the 1976 Republican VP nominee and senator from Kansas as his vice presidential nominee. The Democrats nominated Ted Kennedy, Senator from Massachusetts and chose New Jersey senator Bill Bradley as his running mate.
Bush promoted strong conservatism, whilst Kennedy promoted strong liberalism. Kennedy did very well in the polling before the election due to his relations with former (deceased) President John F. Kennedy and former deceased senator Robert F. Kennedy.
Kennedy won an applauding victory in the 1988 Election against George H.W Bush. The closest state in the election was Delaware leaning for George H.W. Bush 49.23 percent to Kennedy's 48.50 percent with the rest for the Libertarian nominee, Ron Paul. California was the second closest, leaning Kennedy 43.90 percent to Bush's 42.01 percent with the rest for Ron Paul.
In West Virginia, Harry F. Byrd, Jr won an electoral vote from a faithless elector.
Ad blocker interference detected!
Wikia is a free-to-use site that makes money from advertising. We have a modified experience for viewers using ad blockers

Wikia is not accessible if you've made further modifications. Remove the custom ad blocker rule(s) and the page will load as expected.