‹ 1984  1992 ›
Republic of Superior Presidential Election, 1988
November 8, 1988
Nominee
Robert S. Stowe
Jordan K. Gibson
Steven Bolden
Party
Independent (Democrat)
Conservative
Socialist
Home state
Marquette
Marquette
Chippewa
Running mate
Joseph O'Hara
Thomas M. Cates
Karl Morin-Strom
Electoral vote
112
3
0
States carried
14
1
0
Popular vote
183,102
58,546
15,808
Percentage
71.12%
22.74%
6.14%
Presidential election results map. Blue states are those that voted for Jordan Gibson. Green are those that voted for Robert Stowe

President before election
Robert S. Stowe
Independent Democrat

Elected President
Robert S. Stowe
Independent Democrat
The 1988 Presidential Election in the Republic of Superior was second held in its history, the major opponents being Robert S. Stowe, an Independent who had the backing of the Liberal Democratic Party, and Jordan K. Gibson, who won the nomination of the recently organized Conservative Party. The fairly recently established Socialist Party ran political unknown Steven Bolden as well. While not much had been accomplished during Stowe's first term, the people of Superior felt comfortable and safe under his watch. Capitalizing on this popularity, Robert Stowe was reelected in a massive landslide over Gibson and Bolden, losing only Keweenaw to Gibson.
Candidates
Liberal Democratic Party Nomination
Robert S. Stowe, President from Marquette
Dennis Kucinich, Congressman from Mackinac
Robert S. Stowe's liberal policies, along with his previous history as a Democrat in Michigan politics. As a result, the Liberal Democratic Party prepared to simply hand Stowe the nomination at the convention in Manistique by 1987, when no major contenders came to challenge him. That was until Dennis Kucinich declared his candidacy in November of that year, claiming that Stowe was too much of a moderate, and the Liberal Democratic Party needed to steer toward the left. Despite popularity among Socialists and the Left-Wing of the Democratic Party, Kucinich lacked the resources to directly challenge the President, and he never reached more than 8% in any one primary.
At the convention, Kucinich's delegates were not allowed to cast their votes, in order that Stowe be reelected unanimously. This resulted in many of these delegates protesting during the speeches, and the order was eventually lifted following pressure from Stowe himself. The vote tally from the convention on September 5th-7th was as follows:
| Presidential Ballot | | Vice-Presidential Ballot | |
| --- | --- | --- | --- |
| Robert S. Stowe | 427 | John R. O'Hara | 465 |
| Dennis Kucinich | 38 | | |
In his Acceptance Speech, Stowe made on his most famous quotes, which quickly became a slogan used in his campaign:
".......and despite the world around us having grown dark....the chaos.....and the devil......now sharing their claim upon our mother earth.....we have triumphed. We now go to our beds without hunger crossing our minds. We have homes with working power. We have clinics and hospitals to take care of the people. And though there are raids on our lands.....our homes....showing that chaos still exists outside....we have risen like the phoenix out of the ashes of America.
"Rise of the Phoenix" was eventually used to promote the success of the Democratic Party and Robert Stowe in stabilizing the Republic over the last couple years. Dennis Kucinich, however, refused to endorse Robert Stowe once his proposed policies became known. Instead, he endorsed Steven Bolden, who had won the Socialist Party nomination.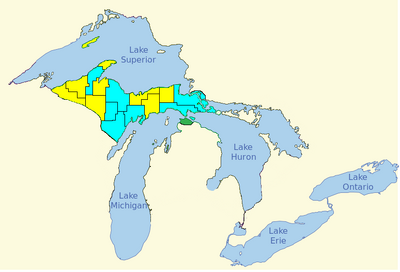 Conservative Nomination
Jordan K. Gibson, Senator from Marquette
Jill C. Sisson, Governor from Alger
Cassandra J. Holiday, Congresswoman from Houghton
Steven M. Pfister, Senator from Schoolcraft
Thomas M. Cates, Governor from Keweenaw
Thierry Pouchard, Governor from Chippewa
Gavin A. Goss, Mayor of Escanaba in Delta
The Conservative Party had only in the last year organized itself from the pieces of the old Republican and Progressive Conservative Parties, largely pushed by the increasingly liberal record of President Stowe, and the rise to national prominence of the Democratic Party a couple years after Doomsday. This disillusionment among the Conservative base was quickly succeeded by the Conservative Party's decision to challenge Stowe in the upcoming election.
Jordan Klaus Gibson was the heavy favorite after his decision to run in the early months of 1986, and maintained that status until it was balanced out by the Conservative governor of Alger, Jill C. Sisson. Steven M. Pfister was also considered by many a powerful contender for the nomination, but ultimately declined in what he viewed as an easy reelection campaign for the President.
In the ensuing primary battle on July 23rd, Gibson would win only seven of the primaries. However, his wins were in the more crucial states such as Marquette, Delta, and Chippewa, and therefore he easily achieved the delegate majority needed to clinch the nomination. Rather than nominate Sisson for VP, at the August 10th-12th convention in Houghton the spot would be given to Thomas Cates, who had endorsed Gibson shortly after his own withdrawal following issues of funding. Despite Cates' own Conservative background, many within the right-wing of the party found the proposed platform lacking in what they thought essential positions, and were further angered when Gibson took cracks at political extremism (though it should be noted he attacked the Left and Right). Many delegates who had been in the Sisson camp left the convention before it was even finished, breaking the fragile image of unity the Conservative Party was trying to maintain.
| Presidential Ballot | | Vice-Presidential Ballot | |
| --- | --- | --- | --- |
| Jordan K. Gibson | 283 | Thomas M. Cates | 316 |
| Jill C. Sisson | 190 | James Kelleher | 92 |
| | | Jill C. Sisson | 65 |
Socialist Nomination
The recently formed Socialist Party, due to a combination of a lack of funds, and a still-forming organization, did not run primary contests. They did, however, still hold a small convention in Sault Ste. Marie, Chippewa, from July 18th-20th.
Given that all of the major political figures from the party at this time were from the city, the results were not surprising. Nor was their any real issues about the choices, in the end - no vote was even held amongst those present at the convention.
Senator Cyril Symes was not interested in running against Stowe, so the task fell to Congressman Steven Bolden, who took the head of the ticket, and City Councillor Karl Morin-Strom of Sault Ste. Marie, who took the bottom of it.
Campaign and the Election
The campaign was largely straightforward. President Stowe ran on his successful record, and the peace that existed. While the Republican and Socialist parties were finally organized and could respond effectively, neither stood much of a chance. If anything, it all seemed more of a formality than anything.
It was largely known from the outset what the result would be. In fact, the biggest surprise was the victory of the Conservative ticket in state of Keweenaw. Today, this is largely felt to have been the result of campaigning by the Conservative Vice-Presidential nominee there, and local issues about the protection of Isle Royale, still not permanently populated or patrolled by the government, from refugees.
Out of a total estimated voting population of 349,044, 73.76%, or 257,456 people, voted.
| Presidential Candidate | Political Party | Home State | Popular Vote Count | % | Electoral Vote Count | Running Mate | Home State |
| --- | --- | --- | --- | --- | --- | --- | --- |
| Robert S. Stowe | Independent (Democrat) | Marquette | 183,102 | 71.12% | 112 | Joseph R. O'Hara | Delta |
| Jordan K. Gibson | Conservative | Marquette | 58,546 | 22.74% | 3 | Jeffrey S. Crochet | Keweenaw |
| Steven Bolden | Socialist | Chippewa | 15,808 | 6.14% | 0 | Karl Morin-Strom | Chippewa |
Ad blocker interference detected!
Wikia is a free-to-use site that makes money from advertising. We have a modified experience for viewers using ad blockers

Wikia is not accessible if you've made further modifications. Remove the custom ad blocker rule(s) and the page will load as expected.