The 1982 Summer Olympics, officially known as the Games of the XVIII Olympiad, were an international sporting event celebrated in Kialgory in Alaska. In addition, a handful of events were held in the city of Evgenigrad to the north. The 1982 Games were the first staged in Alaska, which had hosted the 1976 World Cup.
The games were an enormous financial success for the region and Alaska, and were one of the early indicators that the global recession at the time was waning.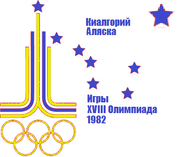 Ad blocker interference detected!
Wikia is a free-to-use site that makes money from advertising. We have a modified experience for viewers using ad blockers

Wikia is not accessible if you've made further modifications. Remove the custom ad blocker rule(s) and the page will load as expected.