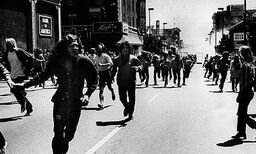 The World Series riots of 1977 took place from October 20 to October 23, with the major rioting taking place in Los Angeles and Havana. The October 20 morning edition of The New York Times revealed that Games 6 and 7 were fixed on both sides. The American and National Leagues both considered revoking the title from the Los Angeles Kings and instead leaving a vacancy for the year. This caused massive protests in both Los Angeles and Havana, as well as New York, where the MLB headquarters were located. By October 22, MLB had announced that the Kings would retain their victory and rioting was placated by the next morning. The most heavy casualties took place in Los Angeles, where twelve people were dead by October 21 as a result of the events. Three people were killed in Havana and New York each, and a whole street block in Havana was burned down. The riots led to stronger enforcement in all of MLB as well as thorough investigations before every World Series.
Ad blocker interference detected!
Wikia is a free-to-use site that makes money from advertising. We have a modified experience for viewers using ad blockers

Wikia is not accessible if you've made further modifications. Remove the custom ad blocker rule(s) and the page will load as expected.