The author(s) of this timeline are openly seeking contributions to this work.
Feel free to add to edit to your heart's content. Thank you.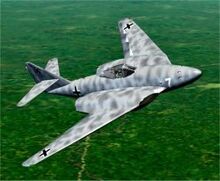 January 1945 Germany- The US 5th company heads to the airfield/oil field/factory No. 5609 which has just surrendered its experimental projects before their first use.
They include:
Aircraft:
1: ME 262 HGIV,10:HE 162's, and 1 Horten X, 2 Henschel Hs P.135, 2 Gotha Go P.50's.4 Dornier Do 335's1: FW 195 and 1: TA 283.
Missiles
5 prototype "Wasserfall",
12 X-4 missiles.
Ground vehicles
There were also
2 "Maus" tanks,
3 Kugleblitz,
1 FG 1250 tank IR mounted system.
Underground, an experiment with a "Tachyon Ray" goes wrong and all are taken to an alternate dimension.

May 4th, 1866 N.M., The former Kingdom of England
After waking up, the former enemies realize where they are and have to cope with the loss of their former lives. They start to explore their new surroundings when they find London, it is a wreck. They soon find some troops but fail to make contact. They soon find out what happened, in 109 A.D. the dwarf planet Pluto blew up and thousands of small meteors struck the Earth leaving only America intact. The last of the meteors came only in the past year and destroyed most life on Earth.
With this knowledge the Germans and Americans join together to protect themselves. Commander Eric Waler becomes first protector of the kingdom and declares that England will be the United Kingdom. The message is sent worldwide.
June 6th, 1866 N.M.
The new allies learn that the people, desperate for help are happy to become united again. Rations are spread out to the hungry populace as soldiers head to Scotland. The Scottish agree to the arangement and accept factories in their province to produce modern weaponry.
Ad blocker interference detected!
Wikia is a free-to-use site that makes money from advertising. We have a modified experience for viewers using ad blockers

Wikia is not accessible if you've made further modifications. Remove the custom ad blocker rule(s) and the page will load as expected.