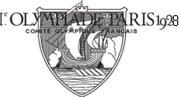 The 1928 Summer Olympics
(
Games of the IX Olympiad
) were held in Paris, France. It was selected over Toronto, London, Tokyo, and Amsterdam, who would hold the 1932 Olympics.
The Games resulted in the United States winning the most medals.
Highlights of the Games
Many decided that France had finally started recovering from World War I, after 10 years.
The number of participating nations increased from the Last Games.