Games of the VIII Olympiad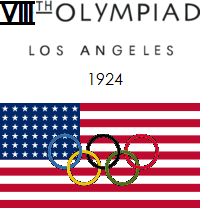 Official Logo of the 1924 Summer Olympics
1924 Summer Olympics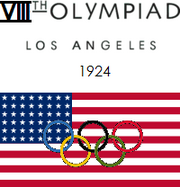 The
1924 Summer Olympics
(also known as the
Games of the VIII Olympics
) were held in Los Angeles, California, USA. The city was picked over Paris, Amsterdam, Rio de Janeiro, and Rome

The games resulted in the US (the host country) winning the most medals.
Highlights of the Games
Former US President Theodore Roosevelt opened the games alongside sitting president Calvin Coolidge, becoming the first non-sitting head of state of the host country to open the Games.
Los Angeles was picked over Paris, the home of Pierre de Coubertin.
This was the last game in which Pierre de Coubertin was the President of the International Olympic Committee.
Other Notes
44 nations participated in the Games.
3089 athletes played in the Games.
126 events were held in 17 sports.
The opening ceremony was on May 4.
The closing ceremony was on July 27.