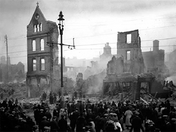 The 
Irish Revolution of 1918
was a republican movement in the late 1910s that overthrew the Kingdom of Ireland due to the failure of the Allies in the Fourth World War and the beginning of the Irish national recession. King Sean II was deposed and executed after seven months of bloodshed and loyalist factions of the government began to flee to England and France soon after. Dublin was captured by the Irish Republican Army in September and the foundation of the Republic of Ireland was proclaimed two months later. The revolution was the bloodiest event in Irish history and Ireland's most stable government. The Republic also became allies with the French and Scottish, whereas the Kingdom had allied with Germany and England.
Ad blocker interference detected!
Wikia is a free-to-use site that makes money from advertising. We have a modified experience for viewers using ad blockers

Wikia is not accessible if you've made further modifications. Remove the custom ad blocker rule(s) and the page will load as expected.