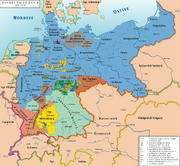 In 1848,The Frankfurt Assembly was the first freely elected parliament for all of Germany. Session was held from May 18, 1848 to May 31, 1849 in the Paulskirche at Frankfurt am Main. Its existence was both part of and the result of the establish of the German Republic.
Infomation Page
Timeline
Ad blocker interference detected!
Wikia is a free-to-use site that makes money from advertising. We have a modified experience for viewers using ad blockers

Wikia is not accessible if you've made further modifications. Remove the custom ad blocker rule(s) and the page will load as expected.