History of Rome-After Ætas ab Brian
Next was Spvrivs Caecilivs From Cyrenaica, aged 43. His rule was normal but for increasingly frequent diseases which found their way out of the regions of northern India. The illnesses were determined to move through polluted air, usually from rotting organic matter. This made provincial governors make garbage handling more strict. This seemed to not help as much as hoped. The sicknesses continued in Parthia and began spreading to the other eastern provinces, hundreds in several major cities were recorded dead by 1599(846), news from the Tang Empire also reported unusually common plagues always coming up from India where they would cause a lot of trouble for both isolated and open cities.
In spring of 1600(847) a new plague, larger than all the recent epidemics combined totally swept out of the east. It killed quicker and more morbidly than any known disease, marking those infected with red or black blotches beneath the skin from bursting blood vessels. immediately behind the wave of death, all order was breaking down. Reaching Asia Minor in a matter of weeks, it quickly spread to Sicily, Sardinia and Corsica, from there the rest of the Empire was open to the invasion.
In response to the outbreak, the Senate tried a myriad assortment of decrees ranging from banning grain imports from the east to halting all Black market speculators. These also did not help, in fact, it instigated mass riots, rebellions-especially amongst slaves because they were making up over 60% of the deaths counted and had little assistance. Parthia was lost in the autumn of 1601(848) and became at worst tiny factions of warring cities, to at best lands of total anarchy where nothing happened for the next 60 years. In late winter 1601(848); Greece, Gaul, Africa, Mauretania, and Italia were struck but control maintained. Caecilivs himself became ill with the disease.
It was now undoubtable in the medical community that the diseases was some form of microbe that got into everything and everyone, minority groups got a beating as usual. More services of every kind were being performed by every recognised religion but none had any effect.
In the month of Sextilus 1601(848) Habasiah revolted, in Augustus(September), Nubia and Arabia Felix followed. The main sources for the Kushite Legions were lost and the majority those legions disbanded or abandoned.
So far the total amount of dead in the Empire (none were sure if this included the lost provinces) was counted at around 140 million. Amazingly also this year, Caecilivs recovered from the disease, it had been known that a few who caught the disease lived and these miracles were claimed by the shrines and temples but the public's faith had now become annoyance and the religions lost so much power that many crumbled into the history books. More secular leaders and policies were demanded by the citizens. The Roman custom of cremation both became unpopular and banned by the government because of the potential of spreading the disease. Huge pits were dug for the dead in cities where there were still enough people alive to dig them The mass graves were Limed by medical practitioners in attempts to stop their disease from leaking into the water tables.
1603-4(850-1) Unlike Kiev, the Pogurez are hit hard by the Miasmata.
In 1604(851) the Miasmata sputtered out, making only small death counts in Scandia and Gothia and far east Germania. It would continue into the Barbarian lands as a roaming disease of little importance.
After five years, 191.7 million slaves and 79.82 million Roman Citizens were dead out of the approximately 400 million total before. After a few years, intermittent contact is made with the Tang. About 22 million of their 65 million are dead. Land costs are far down, slaves are scarce - really scarce, like less than 30 million left in the whole empire scarce, slaves are out-bought by buyers with rewards of better pay and freedoms. This made some slaves very rich and brought about the ideal of Abadse (oneself is number-one at all times). It is an ideal of self employment and doing whatever is necessary to make money on one's own. These 'Abadsetors' flock to the Black markets, replacing the spectators and investing all over the place to turn profits without doing any work. The snippets of education they have gotten serve them well. Eventually they start reserving and supplying other people's jobs and businesses.
1608(855) the city of Novogrod is founded east of the Livia tribes.
1609(856) a devastating earthquake struck the Parthian rebel state, 250 000 were believed killed but in this era of crisis, records were usually lost if they were kept at all. This same quake hit Achaea (northern Peloponnese), killing 50,000.
Some slaves were becoming so rich and free in all ways but name that a few were imprudent enough to start dressing like Citizens. The Senate made laws on how much a slave could be paid and wear but this lead to enormous slave revolts, especially by the Caucasus' Gothic squatters. The province was lost in 1613(860) from the secessionist war. The economy was already hurting from lack of labour so they were forced to allow slaves their freedoms and pay. By the time of Caecilivs's death in 1619(866) the Empire and the world was in a sorry state. Most of the rebel provinces were totally devastated, they probably would not withstand Rome should it recover.
1610's(857+) the Pogurez Cilaf collapses into small Islannic and Pagan tribes.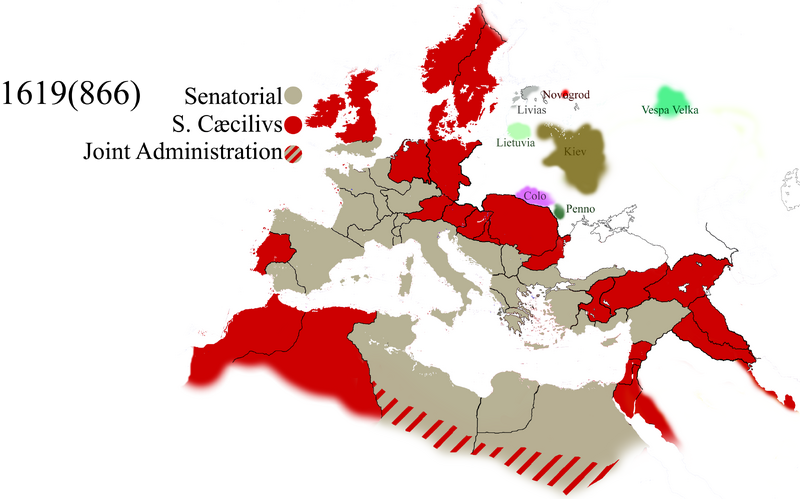 Ad blocker interference detected!
Wikia is a free-to-use site that makes money from advertising. We have a modified experience for viewers using ad blockers

Wikia is not accessible if you've made further modifications. Remove the custom ad blocker rule(s) and the page will load as expected.