A New Emperor and his ambitions
In 1507,a new emperor was crowned named Lucius Constantius.He was crowned Caesar and Imperator of Rome and Protector of the Frontier.He wanted to colonize New Gothia and New Jutland as well as surrounding area.He sent Marcus Severus west on the Explorer with the New Gothia and the New Lands.
New Barbarians
In 1518,Novgorod collapsed.However In 1520,a new Russian State called Kiev arose.In 1536,a new group called the Cybirs arose.
Colonies!
In 1539,New Gothia and New Jutland and surrounding islands were colonized;New Jutland,New Gaul,and New Gothia were established as provinces.A small part of the mainland was claimed in 1546.The Ostrogoths settled in small bands in Dacia swearing allegiance to Rome.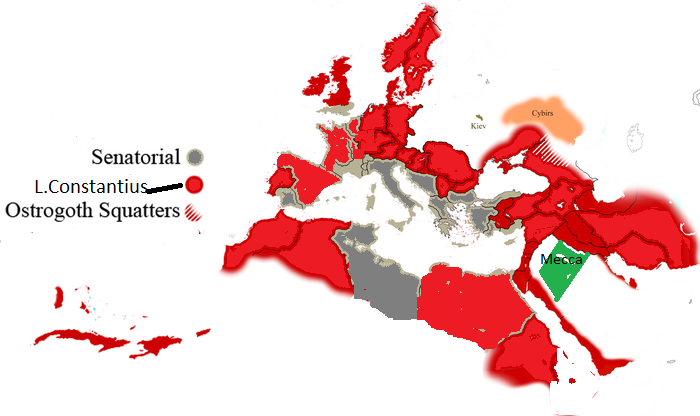 Ad blocker interference detected!
Wikia is a free-to-use site that makes money from advertising. We have a modified experience for viewers using ad blockers

Wikia is not accessible if you've made further modifications. Remove the custom ad blocker rule(s) and the page will load as expected.