History of Rome-After Ætas ab Brian
The next Caesar was Artorivs Solanivs of Britannica aged 47. Once again the Emperorship came to a distant provincial working in the Empire's government. Britannia had been under Roman rule for almost four and a half centuries and of all the provinces, Britannia (at least its southern part), showed a high acceptance of Romanisation. Being proud of his homeland's loyalty and perseverance, he had the Senate vote on allowing it a seat the Senate (a new requirement from Crvvxivs' rule) The discussion ended with the vote going ahead in Britain if the older provinces of Beliares and Sicilia were also considered. This was done sequentially with Beliares in 1304(551), Cilicia in 1305(552), and Britannia Superior in 1306(553).
1303-10(550-557) There was a Cybir resurgence against the Gohuar, retaking control of their lands.
Throughout Rome's rule of Britannia, Hibernian clans had started becoming increasingly formative and given to raiding Roman outposts. This, along with the emergence of silver products in Hibernia and new governors in the British Isles lead to the approval of a blockade and conquest of Hibernia in 1317(564). Roman rule would be solidified in 1324(571) with the defeat of the last Celtic army in the northeast (~County Louth), though Hibernia would retain a pervasive rebel underground for some time. The rebellious clans would be very costly to put down but silver deposits were an enticing incentive to stay, and it was probably better that they stamp the rebels out now before anything disastrous could occur in the world.
1333(580) Artorivs died at the age of 78, the same year a Venitian ADA developed the first eyewear capable of correcting a person's vision to some degree. They were called Vitreusi since they were made of glass.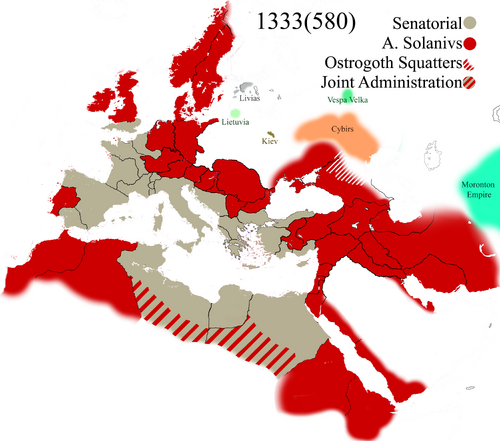 Ad blocker interference detected!
Wikia is a free-to-use site that makes money from advertising. We have a modified experience for viewers using ad blockers

Wikia is not accessible if you've made further modifications. Remove the custom ad blocker rule(s) and the page will load as expected.