Constantine III 
In 1200,Constantine III was crowned Caesar of Rome and Protector of the Frontier.In 1215,there will be some problems on the border.
Parthian Invasion
In 1215,Parthia invaded both Babylonia (Rome's Puppet) and the Province of Assyria. In 1217,Constantine III himself went to the border and fought.In 1218,the tides turned in Rome's favor.In 1219,the lost lands were reclaimed.
Conquering Parthia
In 1220,Rome took to the offensive.In 1223,Persia had fallen.By the 1226,Media was taken.By the time 1229 rolled around,Parthia proper was conquered.But Parthia wouldn't give up.In 1232,the last of Parthia,East Parthia had fallen.In 1236,Parthia surrendered.
Results of the Invasion
In 1236,the immediate result was more territory.In 1240,it became clear though that the Parthians were a little unruly.To counter this,the provincial cluster of Parthia Magna was created it had the provinces of the 2 Parthias,Persia,Media,Babylonia,and Assyria.The rest of Constantine III reign was peaceful.He passed away in 1253 AUC (aka 500 AD).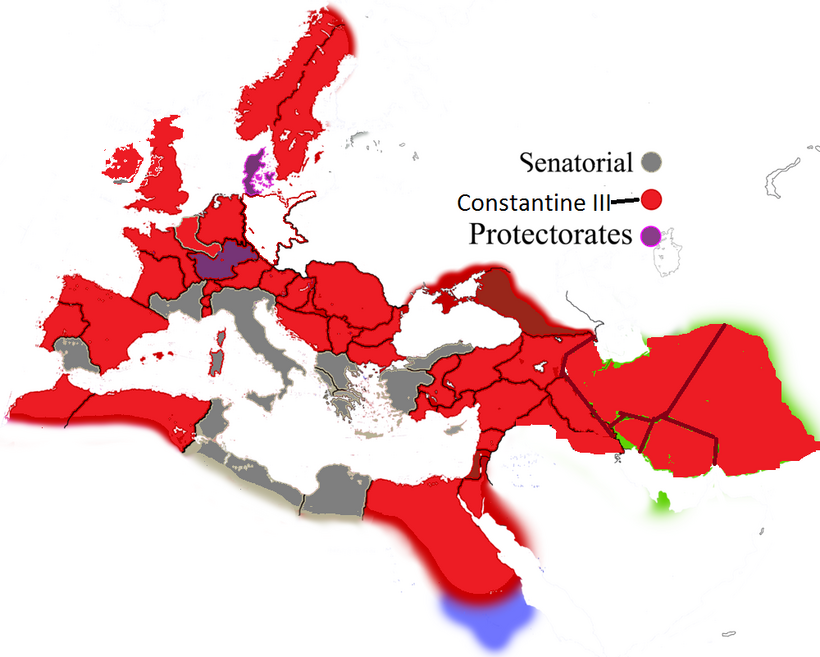 Ad blocker interference detected!
Wikia is a free-to-use site that makes money from advertising. We have a modified experience for viewers using ad blockers

Wikia is not accessible if you've made further modifications. Remove the custom ad blocker rule(s) and the page will load as expected.