Ukusuv Akamiskutaj Chikimiv, elective king (chisaimav) of Kawawachikamach, betrayed the king Cnut VI the Last during his coronation in Harsødir at 1152 kidnapping him and sending him to the capital of his kingdom. During the civil war and the general disarray which it brought to Markland, Kawawachikamach annexed the northern and western coast, respectively in the gulf of Thorsteinn and the gulf of Innu. Finally the whole kingdom became vassal of Kawawachikamach. But was not absorbed, because was too big and anarchical to keep its control. Was very more safety have the kingdom of Markland as vassal and border-defender, than have it as an uncontrollable territory. The new king, appointed by the royal naskapi council, from one of the half-blood houses which supported the Kawawachikamachian cause: Svend I, originally called Chivatinisuv, of the house of Akitaskvaskav (in résumé, Aktaskav).
Markland was in fact isolated from the rest of the world, even the reign of Cnut V. Because of it, the fall of the Viking government did not affect seriously the neighbor countries. Even during the civil war, the country expanded its borders to the south. Vinland did the same.
Helluland and Grønland (in 1163 under the Heyjarldom of Olaf II) continued the race for the northern islands. Dorset and Skræland expanded to west.
Skræland, regented by Olof made war with Grønland to keep save the colonization of its ally.
The first channels between the lakes of Sørsjø were opened at 1179, allowing the trade between the countries with outlet to them: Dorset, Skræland, Vinland, Markland (and consequently Kawawachikamach) and the Wyandot Republic, now the richest nation of all.
The republic expanded its territory to the coasts and made war with the tribes.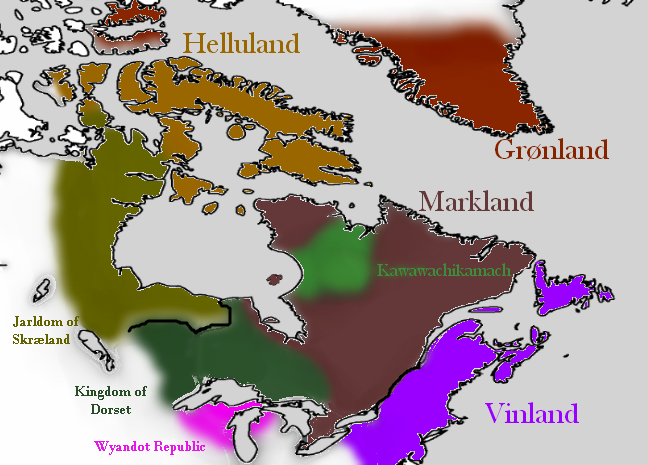 Ad blocker interference detected!
Wikia is a free-to-use site that makes money from advertising. We have a modified experience for viewers using ad blockers

Wikia is not accessible if you've made further modifications. Remove the custom ad blocker rule(s) and the page will load as expected.