112th United States Congress

United States Capitol (2011)

---

Duration: January 3, 2011 – January 3, 2013

---

Senate President:
Tim Pawlenty (R)
Senate Pres. pro tem:
Daniel Inouye (D)
House Speaker:
John Boehner (R)
Members:
100 Senators
435 Representatives
6 Non-voting members
Senate Majority:
Democratic Party
House Majority:
Republican Party

---

Sessions
1st: January 5, 2011 – January 3, 2012
2nd: January 3, 2012 – present
The One Hundred Twelfth United States Congress is the current meeting of the legislative branch of the United States federal government, composed of the United States Senate and the United States House of Representatives. It convened in Washington, D.C. on January 3, 2011, and will end on January 3, 2013, 17 days before the end of the presidential term to which John McCain was elected in 2008. Senators elected to regular terms in 2006 will complete those terms in this Congress. This Congress includes the last House of Representatives elected from congressional districts that were apportioned based on the 2000 census.
In the 2010 midterm elections, the Republican Party won the majority in the House of Representatives. While the Democrats kept their Senate majority, it was reduced from the previous Congress. This is the first Congress in which the House and Senate are controlled by different parties since the 107th Congress (2001–2003), and the first Congress to begin that way since the 99th Congress (1985–1987). In this Congress, the House of Representatives has the largest number of Republican members, 242, since the 80th Congress (1947–1949). This is also the first Congress since 1947 in which a member of the Kennedy family has not served.
Major events
Major legislation
Enacted
January 2, 2011: James Zadroga 9/11 Health and Compensation Act of 2010
October 21, 2011: United States-Colombia Free Trade Agreement Implementation Act
October 21, 2011: United States-Panama Free Trade Agreement Implementation Act
October 21, 2011: United States-South Korea Free Trade Agreement Implementation Act
November 21, 2011: VOW to Hire Heroes Act
December 31, 2011: National Defense Authorization Act for Fiscal Year 2012
February 15, 2012: Questions to the President Act
March 21, 2012: United States-Ghana Free Trade Agreement Implementation Act
March 21, 2012: United States-Kenya Free Trade Agreement Implementation Act
April 5, 2012: Jump-start Our Business Start-ups Act
Proposed
Leadership
Senate
Majority (Democratic) leadership
Majority Leader and Caucus Chair: Harry Reid
Assistant Majority Leader (Majority Whip): Dick Durbin
Caucus Vice Chair and Policy Committee Chair: Chuck Schumer
Senatorial Campaign Committee Chair and Caucus Secretary: Patty Murray
Policy Committee Vice Chair: Debbie Stabenow
Steering and Outreach Committee Vice Chair: Daniel Akaka
Chief Deputy Whip: Barbara Boxer
Minority (Republican) leadership
Minority Leader: Mitch McConnell
Assistant Minority Leader (Minority Whip): Jon Kyl
Conference Chairman: Lamar Alexander, until 2012
Policy Committee Chairman: John Thune, until 2012
Conference Vice Chair: John Barrasso, until 2012
National Senatorial Committee Chair: John Cornyn
Deputy Whips: Roy Blunt, Richard Burr, Mike Crapo, Saxby Chambliss, Rob Portman, Olympia Snowe, David Vitter, Roger Wicker
House of Representatives
Speaker: John Boehner (R)
Majority (Republican) leadership
Majority Leader: Eric Cantor
Majority Whip: Kevin McCarthy
Majority Chief Deputy Whip: Peter Roskam
Conference Chair: Jeb Hensarling
Campaign Committee Chairman: Pete Sessions
Policy Committee Chairman: Tom Price
Conference Vice-Chair: Cathy McMorris Rodgers
Conference Secretary: John Carter
Minority (Democratic) leadership
Minority Leader: Nancy Pelosi
Minority Whip: Steny Hoyer
Assistant Democratic Leader: Jim Clyburn
Senior Chief Deputy Minority Whip: John Lewis
Chief Deputy Minority Whips: Maxine Waters, Jim Matheson, Jan Schakowsky, Joseph Crowley, Diana DeGette, G. K. Butterfield, Debbie Wasserman Schultz, Peter Welch
Caucus Chairman: John B. Larson
Caucus Vice-Chairman: Xavier Becerra
Campaign Committee Chairman: Steve Israel
Steering/Policy Committee Co-Chairs: Rosa DeLauro and George Miller
Organization, Study, and Review Chairman: Mike Capuano
Party summary
Senate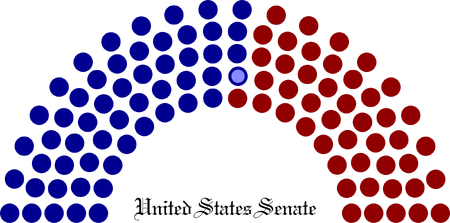 Party

(Shading indicates majority caucus)

Total
Vacant
Democratic
Independent
Republican
End of previous congress
57
1
42
100
0
Begin
53
1
46
100
0
May 3, 2011
45
99
1
May 9, 2011
46
100
0
October 14, 2012
45
99
1
October 18, 2012
46
100
0
Latest voting share
54%
46%
House of Representatives
Party

(Shading indicates majority caucus)

Total
Vacant
Democratic
Republican
End of previous congress
255
179
434
1
Begin
203
232
435
0
February 9, 2011
231
434
1
February 28, 2011
202
433
2
May 9, 2011
230
432
3
May 24, 2011
203
433
2
June 21, 2011
202
432
3
July 12, 2011
203
433
2
August 3, 2011
202
432
3
September 13, 2011
232
434
1
January 25, 2012
201
433
2
January 31, 2012
202
434
1
March 6, 2012
201
433
2
March 20, 2012
200
432
3
June 12, 2012
201
433
2
July 7, 2012
231
432
3
July 31, 2012
230
431
4
August 15, 2012
200
430
5
Latest voting share
46.5%
53.5%
Non-voting members
6
0
6
0
Changes in membership
State
(class)
Former senator
Reason for change
Successor
Date of successor's
installation
Nevada
(1)
John Ensign
(R)
Resigned May 3, 2011 due to an Ethics Committee investigation.
The appointed successor will serve for the remainder of the term that ends with this Congress.
Dean Heller
May 9, 2011
Pennsylvania
(3)
Arlen Specter
(R)
Died October 14, 2012.


The appointed successor will hold the seat until a special election has been held.

Pat Toomey
October 18, 2012