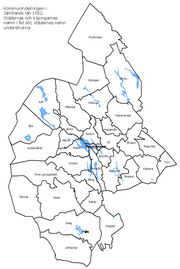 Östersund County (Swedish: Östersunds län) is a county in Sweden. It has an area of 49,443 sq km and a population of 126,573 residents. The capital of the county is Östersund.
Östersund County is a constituency in the elections to the house of commoners.
The area which today forms Östersund County earlier belonged to Norway, but was conquered by Sweden 1658.
Governor of Östersund County is Baron Patrik Odelstierna af Söderlänna.
Ad blocker interference detected!
Wikia is a free-to-use site that makes money from advertising. We have a modified experience for viewers using ad blockers

Wikia is not accessible if you've made further modifications. Remove the custom ad blocker rule(s) and the page will load as expected.