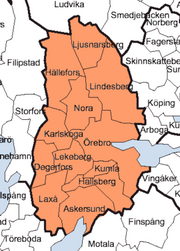 Örebro County (Swedish: Örebro län) is a county in Sweden. It has an area of 8517 sq km and a population of 280 ,05 residents. Capital of the county is Örebro.
Örebro County is a constituency in the elections to the house of commoners.
Governor of Örebro County is Rose-Marie Frebran.
A famous person who was born in Örebro County (although he grew up in Gävle County) is the gym owner, Count Daniel Westling, who is married to Princess Victoria.